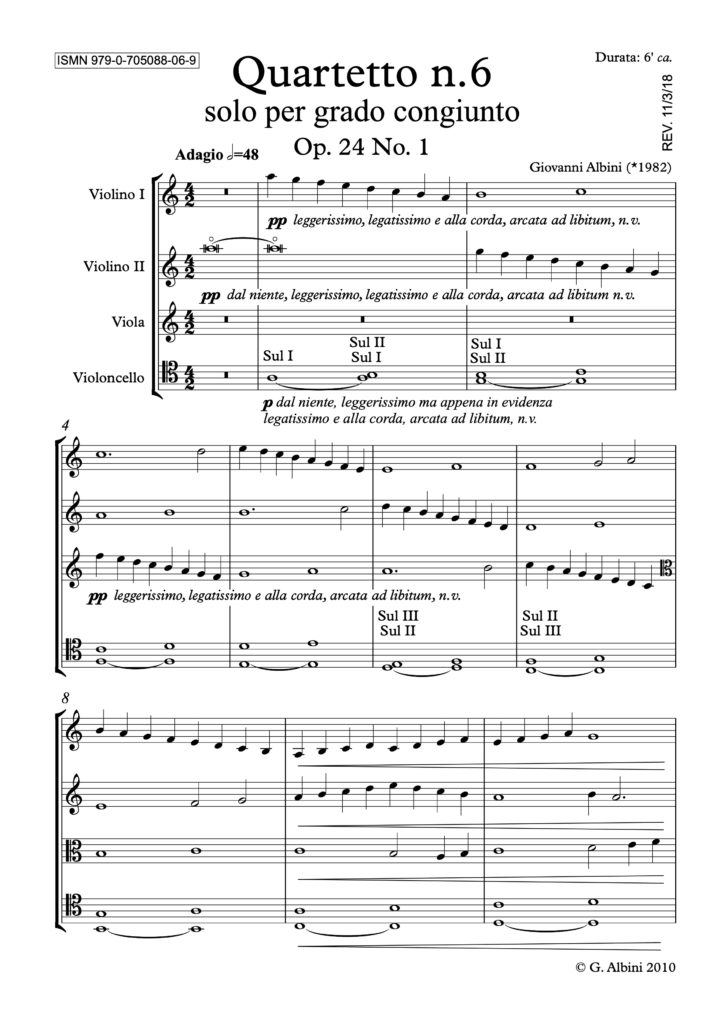 Title: Quartetto n.6
Subtitle: Solo per grado congiunto
Opus number: Op. 24 No. 1
Instrumentation: String Quartet
Performance duration: 5'00"
Year of composition: 2010
Premiere: July, 22nd 2010. Santa Maria Gualtieri, Pavia – Italy. Performers: Jacopo Bigi, Georgia Privitera, Paolo Fumagalli and Andrea Favalessa.
Other performances: June, 16th 2011. Castello Visconteo, Pavia. Performers: Quartetto Indaco. May, 23rd 2012. San Luca Church, Pavia. Performers: Quartetto Indaco. March, 8th 2013. London Symphony Orchestra St. Luke's, London. Performers: Navarra String Quartet. May, 2nd 2013. Triennale di Milano. Performers: Le Cameriste Ambrosiane.
Program notes: (ENG) Based on conjunct motion and palindromic architecture, Albini's sixth string quartet unfolds the distinguishing poetics of the composer: simple musical objects and a meticulous study of the mathematical structures and combinatorial mechanisms they hide, with the aim to unlock hidden features of their expressive potential. (ITA) In perfetta forma palindroma e composto limitandosi al solo moto per grado congiunto in contesti diatonici, il sesto quartetto d'archi di Albini rivela la peculiare poetica del compositore: lo studio attento e profondo di oggetti musicali semplici, delle strutture matematiche e dei meccanismi combinatori che li caratterizzano e che mettono in luce nuove potenzialità espressive.
Recordings: In Giovanni Albini – Musica Ciclica – CD – Cat. 9294 – (P) & (C) 2012 Brilliant Classics – EAN CODE: 5029365929424. Also in Giovanni Albini – String Quartets – CD – Cat. 95717 – (P) & (C) 2019 Brilliant Classics – EAN Code: 5028421957173.
Full Score and Parts: ZIP, ISMN 979-0-705088-06-9 (REV 11/3/18). Also, highSCORE New Music Center Publishing, Pavia 2013. HS00105 – ISMN 979-0-705049-09-1.