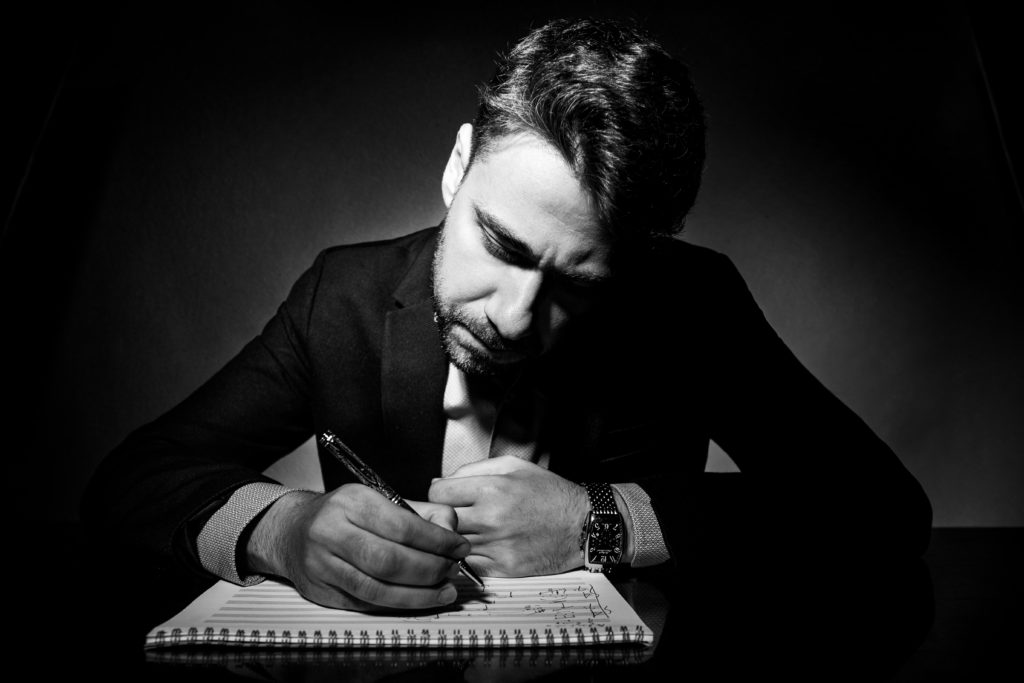 Giovanni Albini (b. 1982), composer, ukulelist, music theorist and mathematician, has written several concert music scores that have been performed by international soloists, ensembles, and orchestras around the world (Europe, USA, Canada and Japan), as well as many tracks for video art, exhibitions, multimedia, commercials, trailers, videogames and television. His theoretical research focuses on mathematically informed aesthetic theories of music composition, mathematical music theory and its application to the composition practice (paying special attention to Neo-Riemannian theories and graph-theoretical formalizations) and he devoted himself with special interest to music technology, soundtracks for interactive media, algorithmic music and non linear composition systems.
He is a ukulelist devoted to the modern and classical reportoire who commissions and performs new contemporary classical music written for the ukulele and transcribe classical and renowned contemporary and twentieth century scores for it. He is co-director of the Ukulele International Conference (UIC) – Interdisciplinary Perspectives on Performance, Composition, and Organology, the first edition of which (UIC 2021) has been hosted by the University of Milan on December, 3-4, 2021.. He is an Aquila Corde Armoniche official endorser.
He is a tenured professor of Music Theory, Solfège and Music Perception and head of research at the Conservatory "Antonio Vivaldi" of Alessandria, where he also teaches the first Italian ukulele university class, and he teaches Composition at the bachelors of the Conservatory of Lugano (Swiss Confederation). He is a member of the Istituto di Studi Superiori dell'Università dell'Insubria "Gerolamo Cardano" (Varese, Italy) and consultant of the Rivista di Analisi e Teoria Musicale (RATM, GATM journal). He taught the seminar Quantitative Methods for Art at The University School for Advanced Studies IUSS Pavia, an Italian Public Institution devoted to research and higher education. He is former professor of Composition, Harmony and Counterpoint at the Conservatory "Claudio Monteverdi" of Bolzano (Italy), of Music Theory and Computer Music at the Conservatory "Francesco Antonio Bonporti" of Trento (Italy), of Mathematical Music Theory, Harmony, Solfége, Acoustics, Arrengement and Transcription and Music Informatics at the "Franco Vittadini" Higher Institute of Music Studies (Pavia, Italy), of Music Theory at the Conservatory "G. Verdi" of Ravenna (Italy) and at the "O. Vecchi – A. Tonelli" Higher Institute of Music Studies of Modena (Italy) where he has also been head of the Music Theory Department. He was visiting lecturer of Analysis Pitch Oriented at the Conservatorio della Svizzera Italiana (Lugano, Swiss Confederation) and visiting lecturer of Music Analysis and lecturer of Game Engines by Sound Perspective at the Estonian Academy of Music and Theatre in Tallinn (Estonia).
He researched 1) algebraic and geometrical formalization of musical elements, theoretically and taxonomically and in connection with compositional techniques, 2) mathematically informed aesthetics of music composition, 3) quantitative methods in music analysis and composition and 4) new technologies for composition and music didactics. On the subject he has given several lectures at many universities, conservatories and institutions, including: Yale University (New Haven, USA), Curtis Institute of Music (Philadelphia, USA), Universidad Nacional Autónoma de México (Mexico City), Open University (Milton Keynes, UK), Lithuanian Union of Composers (Vilnius, Lithuania), Politecnico di Milano (Italy), Biennale di Venezia (Italy).
Of the several musicians, ensembles and orchestras that have performed his music, the following are worth of mention: the EMTA Symphony Orchestra (conducted by Paul Mägi), the Lithuanian National Symphony Orchestra (conducted by Robertas Servenikas), the Tito Schipa Orchestra of Lecce (conducted by Salvatore Accardo and Massimo Quarta), La Verdi of Milan (conducted by Matthieu Mantanus) the Orquestra Clàsica do Centro di Coimbra, the string quartet of the BBC SSO, the Ex Novo Ensemble, the Algoritmo Ensemble (conducted by Marco Angius), the Ensemble Testori (conducted by Diego Ceretta), Le Cameriste Ambrosiane, Giorgio Mirto, Quartetto Indaco, 15.19 Ensemble, Flavio Virzì, Duo Bonfanti, Anna Wibe, Katerina Shapochka and Grammy nominated mandolinist Avi Avital. His rich catalogue includes noteworthy compositions such as his "Missa Prima" (2012, for mixed choir, commissioned for the re-opening of the Cathedral of Pavia), "Una teoria della prossimità" (2006, for string orchestra), nine string quartets, an extensive list of compositions for guitar, both as a solo instrument and in many chamber and orchestral contexts, and his "Corali", a collection of compositions for various instrumentations which explores a unique mathematical form of harmonic cycles developed by the composer. Three monographic CDs compiling his most significant chamber, orchestral and sacred scores, "Giovanni Albini: Musica Ciclica", "Giovanni Albini: Musica Sacra" and "Giovanni Albini: String Quartets" have been published by Brilliant Classics and distributed worldwide (in the USA by Naxos America).
His tracks have been commissioned and used by international brands such as Giorgio Armani, Alfa Romeo, Diesel, BMW, Dovetail Games and Touring Club. He devoted himself with special interest to soundtracks for interactive media: his soundtracks for Mattia Costa's live films (winner of the Nastro Azzurro Video Talent Award of the Milano Film Festival), his pedagogical application for La Biennale Educational and his software "bach", third prize of the New Technology section at the third Biennale d'Arte Contemporanea e del Design of Salerno, are worth of notice. Major museums and galleries which featured his soundtracks and sound designs are: ARCO (Madrid), Muntpunt (Bruxelles), La Biennale (Venice), Museo Poldi Pezzoli (Milano), Triennale di Milano, Museo della Storia di Bologna, Palazzo Venaria (Torino), Castello Sforzesco (Milano), Castel dell'Ovo (Napoli), Istituto Nazionale della Grafica (Roma), Museo di Storia Contemporanea (Milano), Palazzo Saraceni (Bologna), Museo Storico di Bergamo, Museo del Risorgimento (Milano), Care Of (Milano), Galerie parisud (Paris), Fortino S. Andrea (Bari), Museo d'Arte Contemporanea (Roma), Kunst Meran in haus der Sparkasse, Galleria Comunale d'Arte Contemporanea (Montefalcone), Salon Primo, Galleria permanente (Milano), Castello Visconteo (Pavia) and Galleria Luciano Inga Pin (Milano). Moreover, he has developed and published music apps for the Google Play Store and the Apple Store.
He is the founding Artistic Director of the highSCORE New Music Center and of the highSCORE Festival, today's on the principal Italian Contemporary Music Festival offering masterclasses. He wrote about classical and contemporary music in the "Intelligence and Lifestyle" section of the Italian magazine "Il Sole 24 Ore", the leading italian financial newspaper, and he runs "Perle di Vetro", a contemporary music column for "Il Corriere Musicale". He studied Composition at the Conservatory of Lugano and at the "G. Verdi" Conservatory of Milan, achieving a maximum marks 'Diploma di I livello' (BM) and a cum laude 'Diploma di II livello' (MM). He subsequently received a 'Diploma di Alto Perfezionamento' (PgD) in Composition at the prestigious Accademia Nazionale di "Santa Cecilia" in Rome and he also received a BS and a MS in Mathematics and a 'Diploma' (MM) in Classical Guitar. He received his Ph.D in music composition from the Estonian Academy of Music and Theatre in Tallinn. His mentors in composition include Ivan Fedele, Mario Garuti, Paul Glass, Toivo Tulev and Tõnu Kõrvits.

---