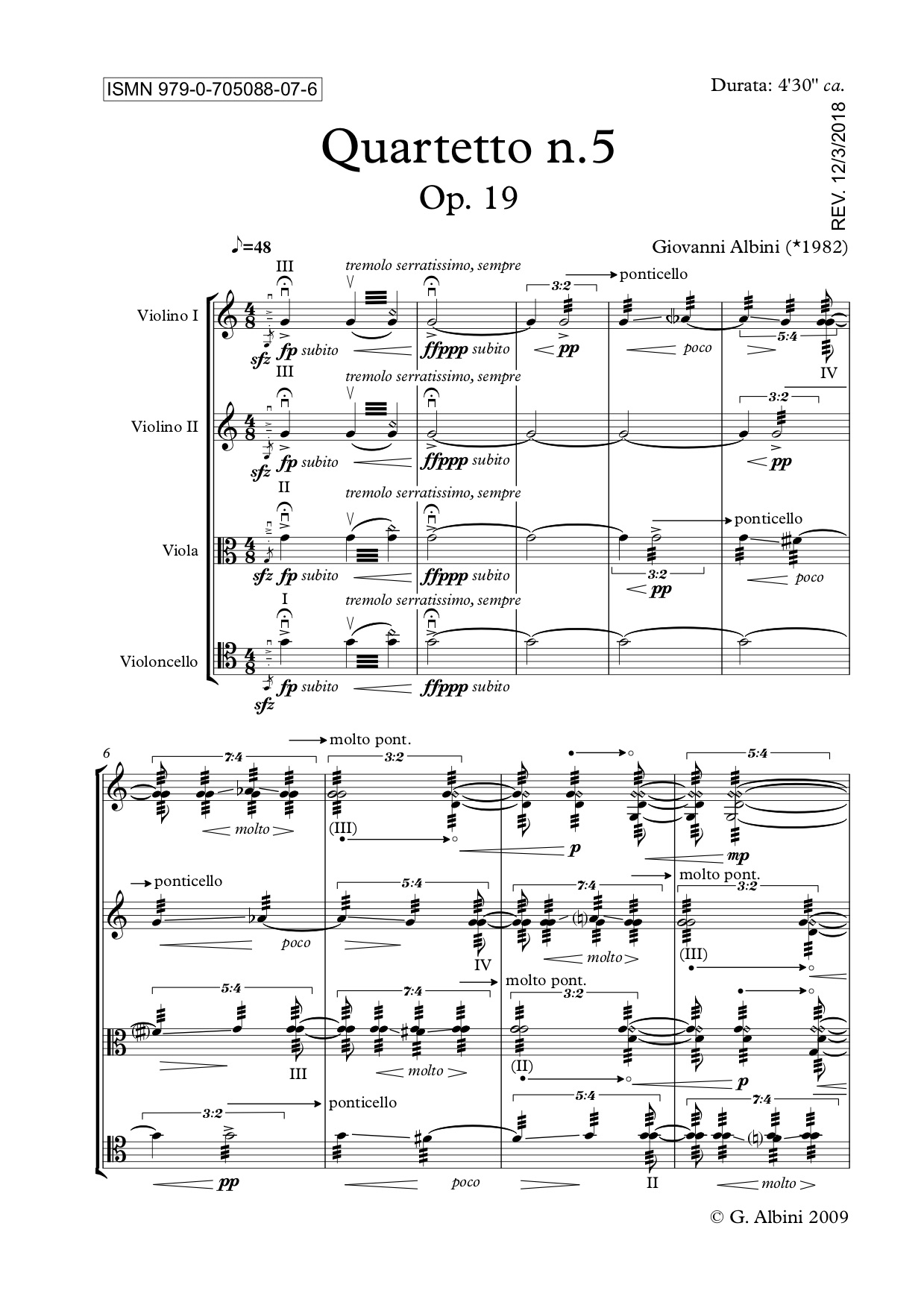 Title: Quartetto n.5
Opus number: Op. 19
Instrumentation: String Quartet
Performance duration: 4'30"
Year of composition: 2009
Premiere: November, 25th 2009. Auditorium Parco della Musica – Sala S. Cecilia, Rome. Performers: Ensemble Algoritmo; Marco Ragliano, Marco Fusi, Gabriele Croci and Matteo Maria Zurletti. Conducted by Marco Angius.
Other performances: May, 23rd 2012. San Luca Church, Pavia. Performers: Quartetto Indaco. May, 2nd 2013. Triennale di Milano. Performers: Le Cameriste Ambrosiane. February, 18th 2018. Estonian Academy of Music and Theatre, Tallinn. Performers: Prezioso String Quartet.
Program notes: (ENG) A short sound tribute to the G minor scale. (ITA) Nella tensione verso un linguaggio asciutto, essenziale e icastico, fondato su di un materiale elementare – scale diatoniche, triadi, elementari condotte delle parti: le radici della nostra musica precipitate a nude forme archetipiche – la poetica di Albini si concentra sulla riduzione ai suoi tratti essenziali, cercando di svelare alcuni luoghi inaspettati delle sue potenzialità espressive. Mentre quello stesso materiale, pur straniato, continua in qualche modo a vibrare di secoli di linguaggi, stili e storie. Come se le sue composizioni si costituissero a suo monumento. Niente di nuovo, a dire il vero: non si può forse guardare ad una forma sonata come ad un monumento alla tonalità? Un'espressione contingente in cui prendono vita significati musicali più ideali ed evanescenti? In questa luce si può pensare al suo quinto quartetto d'archi: come ad un piccolo monumento ad un semplicissimo oggetto musicale: la scala di Sol minore.
Press: Interview with the composer about the score on italian paper Il Giornale by Luca Pavanel (italian, two parts). Link1, Link2.
Recordings: In Giovanni Albini – Musica Ciclica – CD – Cat. 9294 – (P) & (C) 2012 Brilliant Classics – EAN CODE: 5029365929424. Also in Giovanni Albini – String Quartets – CD – Cat. 95717 – (P) & (C) 2019 Brilliant Classics – EAN Code: 5028421957173.
Full Score and Parts: ZIP, ISMN 979-0-705088-07-6 (REV 12/3/18). Also, highSCORE New Music Center Publishing, Pavia 2011. HS 00102. ISMN 979-0-705049-01-5.