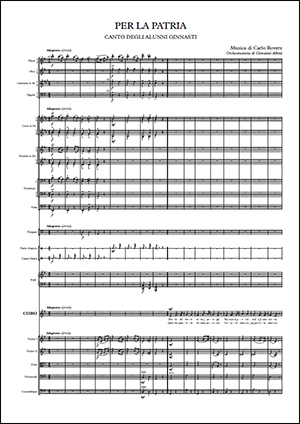 Title: Per la Patria
Subtitle: Canto degli Alunni Ginnasti
Text: "Per la Patria", a patriotic song by Giulio Carcano
Opus number: Tr. 4
Instrumentation: Treble Voices and Orchestra (2.2.2.2 – 4.4.3.1 – Timp.Perc.Harp – Strings)
Performance duration: 3'00"
Year of composition: 2011, Orchestration of Carlo Rovere's Song Per la Patria – Canto degli Alunni Ginnasti (1865?). Original song for voice and piano.
Premiere: December, 12th 2011. Aula di Montecitorio, seat of the Italian Chamber of Deputies, Roma. Performers: Juniorchestra e Coro di Voci Bianche dell'Accademia Nazionale di Santa Cecilia.
Program notes: (ITA) Orchestrazione di un inno patriottico risorgimentale per la musica di Carlo Rovere su testo di Giulio Carcano realizzato nel contesto di un progetto per il concerto di Natale nell'Aula di Montecitorio che ha visto la collaborazione della Camera dei Deputati e dell'Accademia Nazionale di Santa Cecilia.
Recordings: In Concerto di Natale – DVD – Camera dei Deputati, Segreteria generale – Ufficio pubblicazioni e relazioni con il pubblico; Servizio Gestione Amministrativa – Reparto Servizi Radiofonici e Televisivi; 2012.
Track Info: audio rip of the national television broadcasting (RAI3, December, 15th 2011).