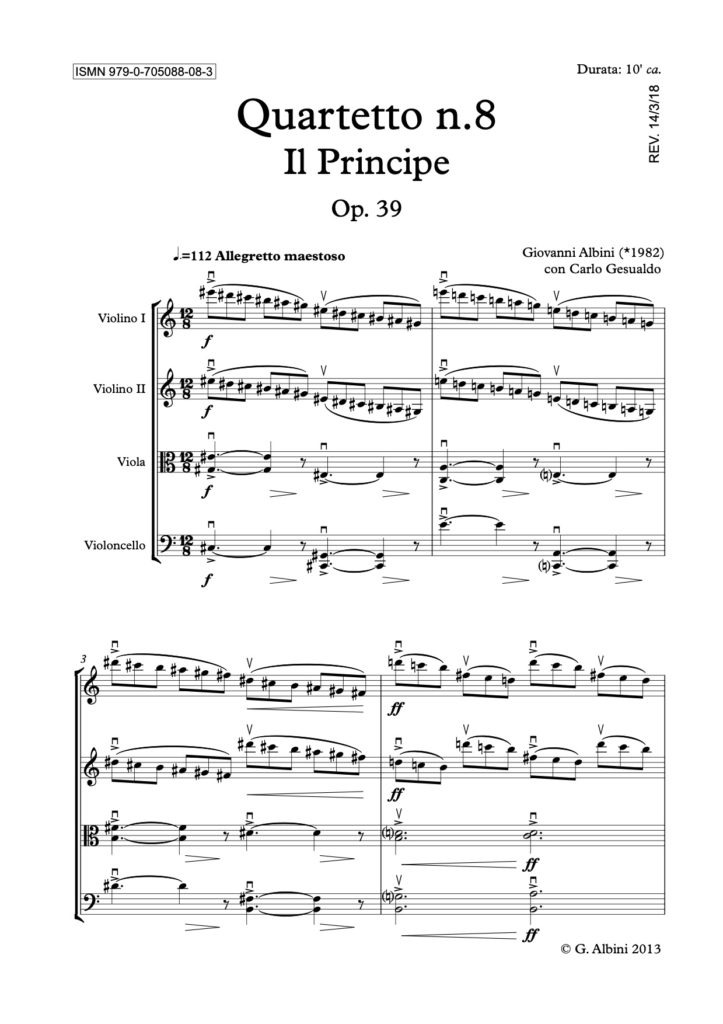 Title: Quartetto n.8
Subtitle: Il Principe
Opus number: Op. 39
Instrumentation: String Quartet
Performance duration: 10'00"
Year of composition: 2013
Premiere: July, 28th 2013. Bridges Conference Music Night, Enschede – The Netherlands. Quinetique String Quartet.
Other performances: September, 2nd 2020. EMTA Suur Saal, Tallinn – Estonia. Performers: Prezioso String Quartet: Robert Traksmann, Mari-Katrina Suss, Helena Altmanis and Andreas Lend.
Program notes: (ENG) Composed in the 400th anniversary of Carlo Gesualdo da Venosa's death (2013), this four-movements quartet is based on the first five bars of his famous madrigal 'Moro, lasso, al mio duolo' [I die, alas, in my suffering], while a complete transcription of the marvelous chromatic madrigal is offered in the last movement. The original material gets continuously twisted, transfigured and processed in several ways by the means of mathematical procedures. However, the madrigal is always recognizable: its beauty is destined to outlast its time and our one. (ITA) Il mio ottavo quartetto d'archi nasce nel contesto delle celebrazioni del cinquecentenario della scomparsa di Carlo Gesualdo da Venosa quale lavoro di trasfigurazione del suo celebre madrigale Moro Lasso. Materiale musicale che viene ora presentato in piena luce, ora frammentato, astratto e incastrato in processi e geometrie altri, propri del mio linguaggio. E, pur mantenendo tratti riconoscibili, si fa testimonianza concreta e durevole a onore del Principe. L'idea trae spunto dalle opere delle scultore francese Arman: accumuli, distruzioni e ricomposizioni di oggetti che trasfigurati conservano la loro forza e la loro identità: sopravvivono l'uomo e il tempo. (Giovanni Albini) (EESTI) Giovanni Albini 8. keelpillikvartett on loodud hilisrenessansi heliloja Carlo Gesualdo da Venosa (1566-1613) surma 400. aastapäevaks (2013). Neljaosaline kvartett põhineb Gesualdo kuulsa madrigali 'Moro, lasso, al mio duolo' [Ah, ma suren oma südamevalus] viiel esimesel taktil. Selle imepärase kromaatilise madrigali terviklikku transkriptsiooni pakub kvarteti viimane osa. Madrigali originaalmaterjali on matemaatiliste vahenditega pidevalt transformeeritud ja töödeldud. Siiski on madrigal ise kogu aeg äratuntav: tema ilu kestab oma ajast ja meie ajast kauem.
Recordings: In Giovanni Albini – String Quartets – CD – Cat. 95717 – (P) & (C) 2019 Brilliant Classics – EAN Code: 5028421957173.
Full Score and Parts: ZIP, ISMN 979-0-705088-08-3 (REV 14/3/18).
Track info: Live recording of the premiere. Second movement only: Adagio, espressivo e sofferto.