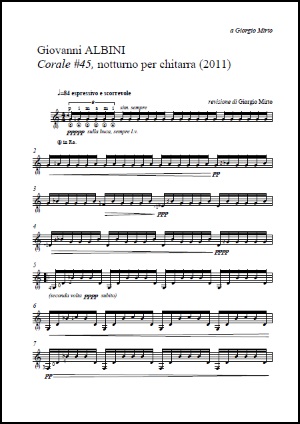 Title: Corale #45
Subtitle: Notturno
Opus number: Op. 26
Instrumentation: Guitar
Performance duration: 6'00"
Year of composition: 2011. Written for and revised by Giorgio Mirto.
Premiere: March, 24th 2011. Casa Pinna, Tadasuni (Oristano). Performer: Giorgio Mirto.
Program notes: (ENG) Albini's peculiar mathematical/geometrical approach to harmony shapes this virtuosistic score, not without romantic and expressionist connotations. (ITA) L'armonia ciclica fondata su triadi connesse da rigide regole ottenute dal particolarissimo studio del compositore – che ha osservato le loro proprietà armoniche dal punto di vista matematico/geometrico – offre la struttura dalla quale origina questo lavoro dai tratti espressionisti e intimisti. La notte trova allora rappresentazione nelle armonie cristalline sospirate dal gesto delicato e virtuosisticamente ininterrotto dell'arpeggio.
Recordings: In A.A.V.V. Giorgio Mirto: Nocturnes for Guitar – CD – Cat. 9258 – (P) & (C) 2012 Brilliant Classics – EAN CODE: 5029365925822.
Score: highSCORE New Music Center Publishing, Pavia 2011. HS 00103. ISMN 979-0-705049-02-2.