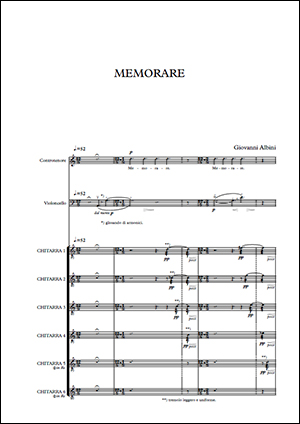 Title: Memorare
Text: "Memorare" (Remember, O Most Gracious Virgin Mary), a Roman Catholic prayer by Saint Bernard of Clairvaux
Opus number: Op. 13 N. 1
Instrumentation: Countertenor, Cello and Guitar Sextet
Performance duration: 4'30"
Year of composition: 2007
Premiere: April, 16th 2007. Basilica of St. Peter in the Gold Sky, Pavia – Italy. Performers: Concordia C(h)ordis (Guitar Sextet), Davide Fior (Countertenor), Marta Fornasari (Cello).
Program notes: (ITA) Composizione del 2007 che intona una preghiera mariana attribuita a San Bernardo. La scelta della voce del controtenore (mantenuto anche nella versione del 2011 per controtenore e coro maschile) conferisce un timbro quasi straniante alla cantillazione che oscilla tra inflessioni modali imperniate sulla nota Sol, con tratti di modo dorico (Si♭), frigio (La♭), ed eolio (Mi♭). Al grave, la voce del violoncello sostiene con note lunghe e tenute i frammenti di canto (vi è prima della fine un vero e proprio duetto tra la voce del controtenore e quella del violoncello), mentre le chitarre partecipano alla costruzione delle onde di tensione inspessendo la nota della cantillazione con cluster cromatici, per sfumare alla fine nella nuova consonanza, in un movimento che asseconda la declamazione cantata della preghiera. (I. Pustijanac).
Recordings: In Una vita per la Vita – CD – (P) & (C) 2008 DIPIU' srl, Associazione Laude Novella, Movimento per la Vita.
Full Score: highSCORE New Music Center Publishing, Pavia 2014. HS00106 – ISMN 979-0-705049-10-7.
Track Info: April, 18th 2007. Santa Maria del Popolo church, Vigevano (Pavia). Concert for the visit of Pope Benedict XVI. Performers: Concordia Chordis (Guitar Sextet), Davide Fior (Countertenor), Marta Fornasari (Cello). Recording from the concert.