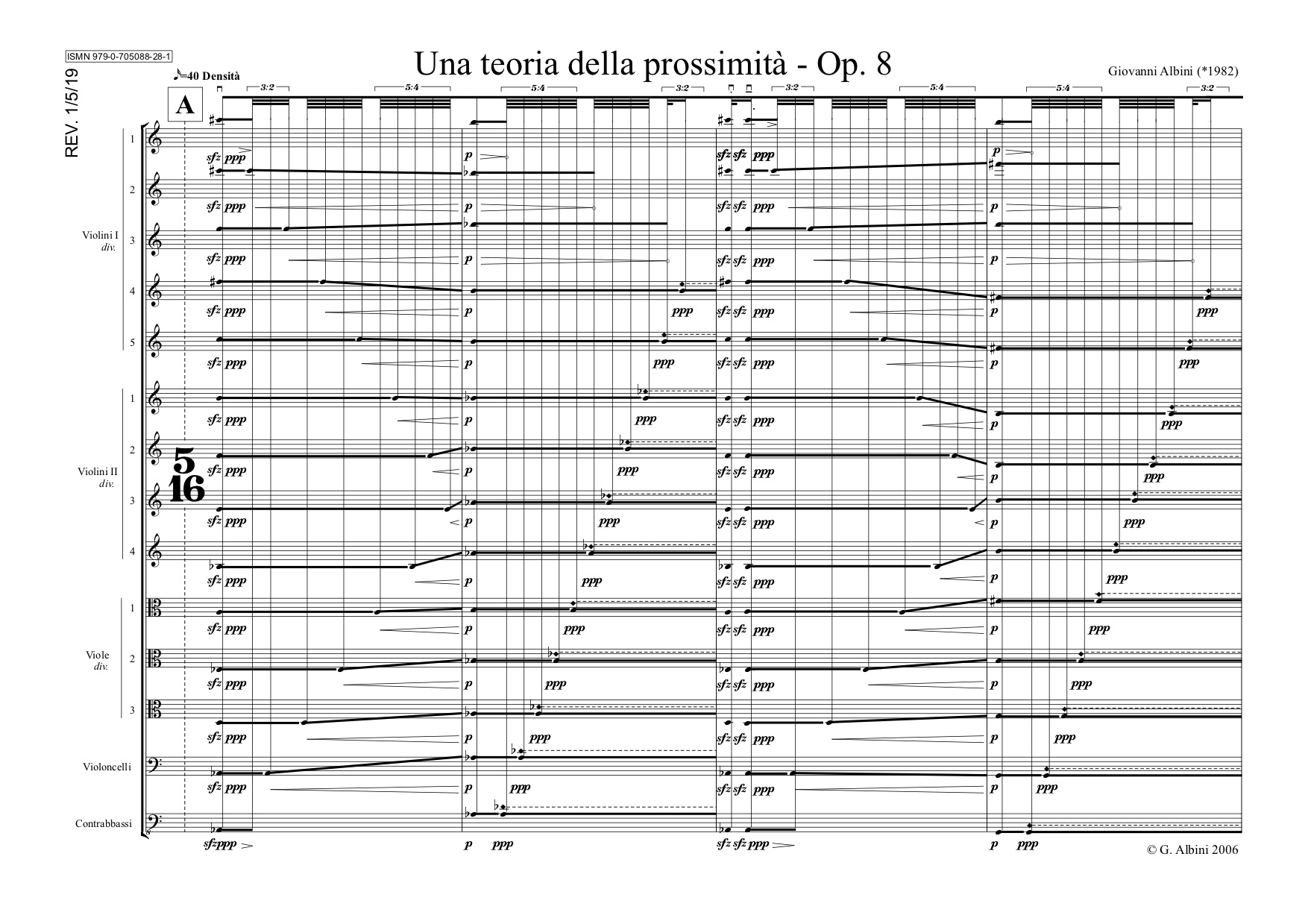 Title: Una Teoria della Prossimità
Opus number: Op. 8
Instrumentation:  String Orchestra (min. 5.4.3.2.1)
Movements: I – Densità, II – Continuità
Performance duration: 7'00"
Year of composition: 2006
Premiere: May, 20th 2006. XXII Youth chamber music days DRUSKOMANIJA 2006 (Druskininkai, Lithuania). Performers: Lithuanian National Orchestra conducted by Robertas Šervenikas.
Other perfomances: July, 31st 2011. TAGV (GIL Vincent Academic Theatre), Music Night, Bridges Math Art 2011. Performers: Orquestra Clàsica do Centro di Coimbra.
Program notes: (ITA) Nel tentativo di esprimere in musica i concetti di densità e continuità, questa partitura per orchestra d'archi è costruita su due tempi che esplorano la forma palindroma e strutture autosimilari, frattali. Rigore formale e volontà espressiva si incontrano in un lavoro in cui la matematica si offre come ispirazione, come suggestione negli intenti programmatici, come luogo di materiali e sistemi compositivi e nella geometria di una partitura non convenzionale, in cui l'orchestra è trattata come un unico imponente strumento.
Recordings: In Giovanni Albini – Musica Ciclica – CD – Cat. 9294 – (P) & (C) 2012 Brilliant Classics – EAN CODE: 5029365929424.
Full Score: ZIP, ISMN 979-0-705088-28-1 (REV 1/5/19). Also: highSCORE New Music Center Publishing, Pavia 2011. HS 00101. ISMN 979-0-705049-00-8.
Track info: Live recording of the premiere in Druskininkai.