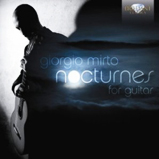 A.A.V.V. "GIORGIO MIRTO: NOCTURNES FOR GUITAR" CD
Cat. 9258 – (P) & (C) 2012 Brilliant Classics – EAN CODE: 5029365925822
With its romantic and mystical connotations, 'night' has long been the inspiration behind many works of art. This release presents an alternative reading of its beguiling message, detailing a selection of little-known and contemporary compositions that have all been written for guitar. It includes the recording of my "Corale 45". TRACKLIST 01-03. Giorgio Mirto, "3 Nocturnes" [15.27]; 04. Livio Torresan, "Notturno" [5.02]; 05. Roberto Manca, "Notturno No. 3" [4.14]; 06. Roberto Manca, "Ulisse" [2.46]; 07. Rosolino Di Salvo, "La notte di Penelope" [5.33]; 08. Giorgio Signorile, "Ninna nanna a Donegal" [4.41]; 09. Giorgio Signorile, "Le colline di Karen, notturno africano" [4.16]; 10. Giovanni Albini, "Corale #45, notturno" [5.37]; 11. Máximo Diego Pujol, "Nocturno" [4.09]; 12. Ángel E. Lasal, "Nocturno" [3.48]; 13. Miklos Rozsa, "Valzer Crépuscolaire" [4.25]; 14. Andrew York, "Into Darkness" [2.38].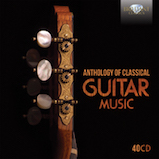 A.A.V.V. "ANTHOLOGY OF CLASSICAL GUITAR MUSIC" Set of 40 CDs
Cat. 95480 – (P) & (C) 2017 Brilliant Classics – EAN CODE: 5028421954806
Guitar lovers are lucky enough to have their pick of repertoire, spanning the entire globe as well as many centuries. Never before, however, have they been able to listen to their favourite pieces all in one place – from Baroque to 20th Century, from Latin America to north Germany. This ambitious and expansive set of 40 CDs brings together a wide range of works for solo guitar guaranteed to satisfy those eager to explore repertoire both known and unknown. It includes the recording of my "Corale 45, Notturno" DISK 47 TRACK 10.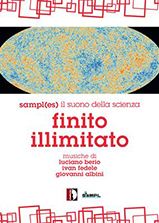 "BERIO, FEDELE, ALBINI: FINITO ILLIMITATO" DVD
STR 33854 – (P) & (C) STRADIVARIUS – Italia – EAN CODE: 8011570338549
The artistic project "Finito illimitato" was first staged on 23 May 2014, offering a journey through the history of the Universe from its birth to the present day. The "generating" scientific concept of this artistic event is the cuirent standard Model of the Universe, known as the Big Bang Model. It was considered that 'Linea" by Luciano Berio could admirably and theatrically evoke the situation created in the initial phases of life of the Universe. The work "Pulse and Ligh" by Ivan Fedele is inspired by the "third phase" of the history of the Universe, when, after neutral atoms nave ormed, light begins to "travel in the dark". The work "Terza Algebra del Tempo" by Giovanni Albini is inspired by the fourth and fifth phase in the history of the Universe: from the reation of stars and planets, to that of life and mankind.
SaMPL del Conservatorio "Cesare Pollini" di Padova con la collaborazione scientifica dei Dipartimenti di Fisica e Astronomia dell'Università di Padova presenta "Finito Illimitato", una produzione video-musicale che si propone di raccontare con la musica il viaggio temporale cosmologico dello sviluppo dell'universo. Interpreti: Alvise Vidolin (regia suono), Luca Richelli (elettronica), Arrigo Axia (percussioni), Paolo Parolini (percussioni), Daniele Roi(piano), Aldo Orvieto (piano), Maria Grazia Bellocchio (piano). Una pubblicazione della collana SIAE – Classici di Oggi. Musiche: Luciano Berio, "Linea" (1973); 02. Ivan Fedele, "Pulse and light" (2014); 03. Giovanni Albini, "Terza algebra del tempo" (2014).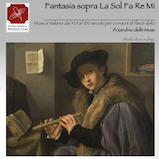 A.A.V.V. "FANTASIA SOPRA LA SOL FA RE MI" CD
(P) & (C) Accademia Musicale Studio Musica Production 2016/2018
Anthology of Italian music for recorder ensemble from Renaissance to contemporary composers. Performers: Il Giardino delle Muse – Simone Erre, Valerio Febbroni, Benedetta Ferracin, Matteo Maringola and Luciano Nizzoli. It includes the recording of my "Quartetto op. 24 No. 4, Canto di grigi nudi" TRACK 18.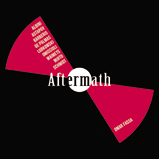 A.A.V.V. "OMAR FASSA: AFTERMATH" CD
(P) & (C) highSCORE New Music Center 2012 – UPC: 887158174698
Contemporary works for classical guitar. It includes the recording of my "Lacrimosa". TRACKLIST 01. Enrico De Palmas, "Dualità" [2.02]; 02. Alberto Barberis, "Vuoto che l'Eco non Colma" [3.25]; 03. Eugene Astapov, "Lenten Music" [4.00]; 04. Giovanni Albini, "Lacrimosa" [4.31]; 05. Riho Esko Maimets, "Aftermath" [5.25]; 06. Stefanie Lubkowski, "Every Night I Have the Same Dream" [5.10]; 07. Giorgio Mirto, "II", da "4 Pezzi" [2.45]; 08. Nicholas Omiccioli, "Danza di Fuoco" [2.42]; 09. Paden Schmidt, "The Importance of Play" [3.17].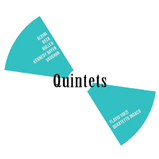 A.A.V.V. "QUINTETS" CD
(P) & (C) highSCORE New Music Center 2011 – UPC: 881034957450
Contemporary works for electric guitar and string quartet. Flavio Virzì (guitar) and Quartetto Indaco. It includes the recording of my "Fontane Veneziane – Corale #45". TRACKLIST 01. Giovanni Albini, "Fontane Veneziane – Corale #45" [3.00]; 02. Jenny Beck, "One or Many Wolves" [4.55]; 03. Jeremy Vaughan, "[Composition] for 5" [10.21]; 04. Elizabeth Kennedy Bayer, "Saint Quarrelsome" [7.45]; 05. Mark Buller, "Edge" [4.07].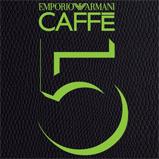 "EMPORIO ARMANI CAFFE' Vol.5" CD
An Ediemme Records – SoDe compilation (P) & (C) 2010 Intai
Refined lounge music. It includes my track Amigdala. TRACKLIST 01. The Real Tuesday Weld, "The Day Before You Came"; 02. Flow. Experience, "Fade To Grey (Dubb RMX)"; 03. Grand National, "Rub Your Potion (Fear of Theydon Mix)"; 04. Tones on Tail, "Lions"; 05. David Motion & Sally Potter, "The Maze"; 06. Matt Gordon, "Anne"; 07. Club des Belugas, "A Men's Scene"; 08. Orchestra di Piazza Vittorio, "Tarareando"; 09. Lindström, "Gentle As A Giant"; 10. Klaus Waldeck, "Midsummer Night Blues"; 11. Joker's Daughter, "Kyoto Song"; 12. Albini – Ceccarini, "Amigdala"; 13. Raz Ohara & The Odd Orchestra, "Where He At (Apparat Remix)"; 14. Five Points, "End Titles"; 15. Wim Mertens, "Struggle For Pleasure".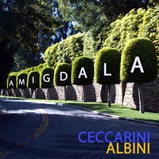 "CECCARINI – ALBINI: AMIGDALA" ALBUM
(P) & (C) 2011 SoDe Records. TRACKLIST 01. Amigdala [2:56]; 02 Amigdala (Orchestral Breath) [3:42].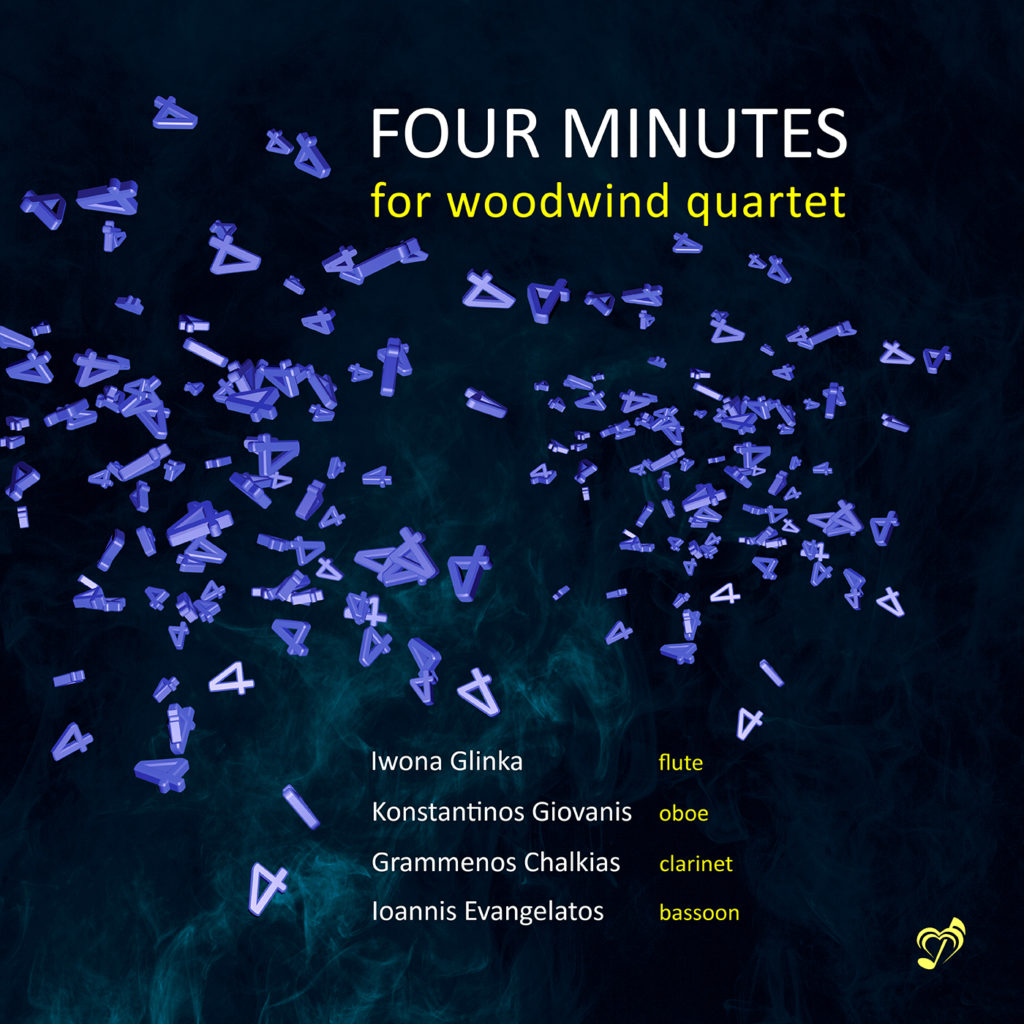 A.A.V.V. "FOUR MINUTES FOR WOODWIND QUARTET" CD
Cat. Phasma-Music 012 – (P) & (C) 2019 Phasma-Music – UPC: 660989085667
This release contains eighteen four-minute works, written by composers from nine countries. The performers are Iwona Glinka (flute, piccolo) and Trio Arundos: Konstantinos Giovanis (oboe, English horn), Grammenos Chalkias (clarinet, bass clarinet) and Ioannis Evangelatos (bassoon). Tracklist:
● 01. Giovanni Albini, Quartetto Op. 24 No. 5 – Solo per grado congiunto;
● 02. Aaron Alter, Popcorn Blues;
● 03. Jerome de Bromhead, Warm Crosswind;
● 04. Ricky Chaggar, First Encounter & Time Together;
● 05. James C. Danly, Idle Thoughts;
● 06. Lars Fetzek, Palindrome Quartet #1;
● 07. Martin Lennartz, Mozart ? (koinzidentiale Musik op. 34; 2018);
● 08. Chan Wing Lun, Qiufen (Autumn equinox);
● 09. Allen Molineux, Elaine's ImitationDance;
● 10. Claudio Passilongo, Piccola Pastorale con Fuga;
● 11. Andrew Sigler, Treetops;
● 12. Randall Snyder, Animè;
● 13. José Jesus de Azevedo Souza, Combined sounds;
● 14. Stamatia Statherou, English Castle;
● 15. Alan Terricciano, Roundelay;
● 16. William Toutant, Bavardage;
● 17. Michail Travlos, Triptych;
● 18. Douglas Wagoner, Two Humoresques.