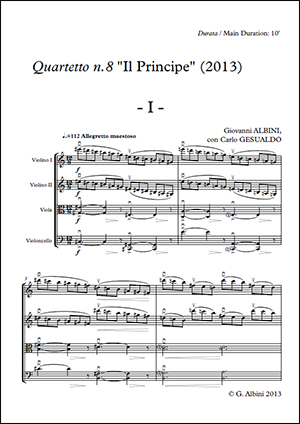 Title: Quartetto N. 8
Subtitle: Il Principe
Opus number: Op. 37
Instrumentation: String Quartet
Performance duration: 10'00"
Year of composition: 2013
Premiere: July, 28th 2013. Bridges Enschede 2013 Music Night, Enschede, the Netherlands. Performers: Quinetique String Quartet.
Program notes: (ITA) Il mio ottavo quartetto d'archi nasce nel contesto delle celebrazioni del cinquecentenario della scomparsa di  Carlo Gesualdo da Venosa quale lavoro di trasfigurazione del suo celebre madrigale Moro Lasso. Materiale musicale che viene ora presentato in piena luce, ora frammentato, astratto e incastrato in processi e geometrie altri, propri del mio linguaggio. E, pur mantenendo tratti riconoscibili, si fa testimonianza concreta e durevole a onore del Principe. L'idea trae spunto dalle opere delle scultore francese Arman: accumuli, distruzioni e ricomposizioni di oggetti che trasfigurati conservano la loro forza e la loro identità: sopravvivono l'uomo e il tempo. (G. Albini)
Track info: Live recording of the premiere. Second movement only: Adagio, espressivo e sofferto.