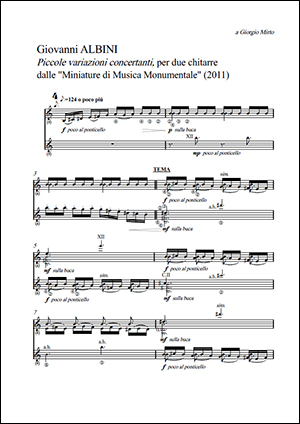 Title: Piccole Variazioni Concertanti
Subtitle: dalle Miniature di Musica Monumentale
Opus number: Op. 29 N. 1
Instrumentation: Guitar Duo
Performance duration: 5'00"
Year of composition: 2011. Written for Giorgio Mirto.
Premiere: July, 10th 2011. Palazzo Pichi Sforza, Sansepolcro (Arezzo). Performers: Giorgio Mirto and Victor Villadangos.
Program notes: (ITA) Cinque brevi variazioni concertanti per due chitarre sul materiale tematico della composizione per 'piccola' orchestra del 2010, Musica Monumentale, Op. 25. Da cui il titolo intero di questa composizione dedicata a Giorgio Mirto: Piccole Variazioni Concertanti dalle Miniature di Musica Monumentale.